About the Book
In a world that associates stature, physical perfection, and race with a person's value, Walking Tall is about harnessing the power of self-worth as experienced by an African American, gay, Christian man who also just happens to be a dwarf. From early lessons in the deep south to escapades as Donald Duck at Walt Disney World to the Skittles-ridden cat and mouse games on his psychologist's couch, and finally to the finish line of accepting and loving himself, Walking Tall is brisk reading, full of charm, and has a devilish sense of humor. For anyone who has ever felt the slightest bit uncomfortable in their own skin, has been afraid to wrestle personal demons into submission or may have missed the directional signs while walking their own road less traveled, Walking Tall is a globe-trotting journey to self-acceptance.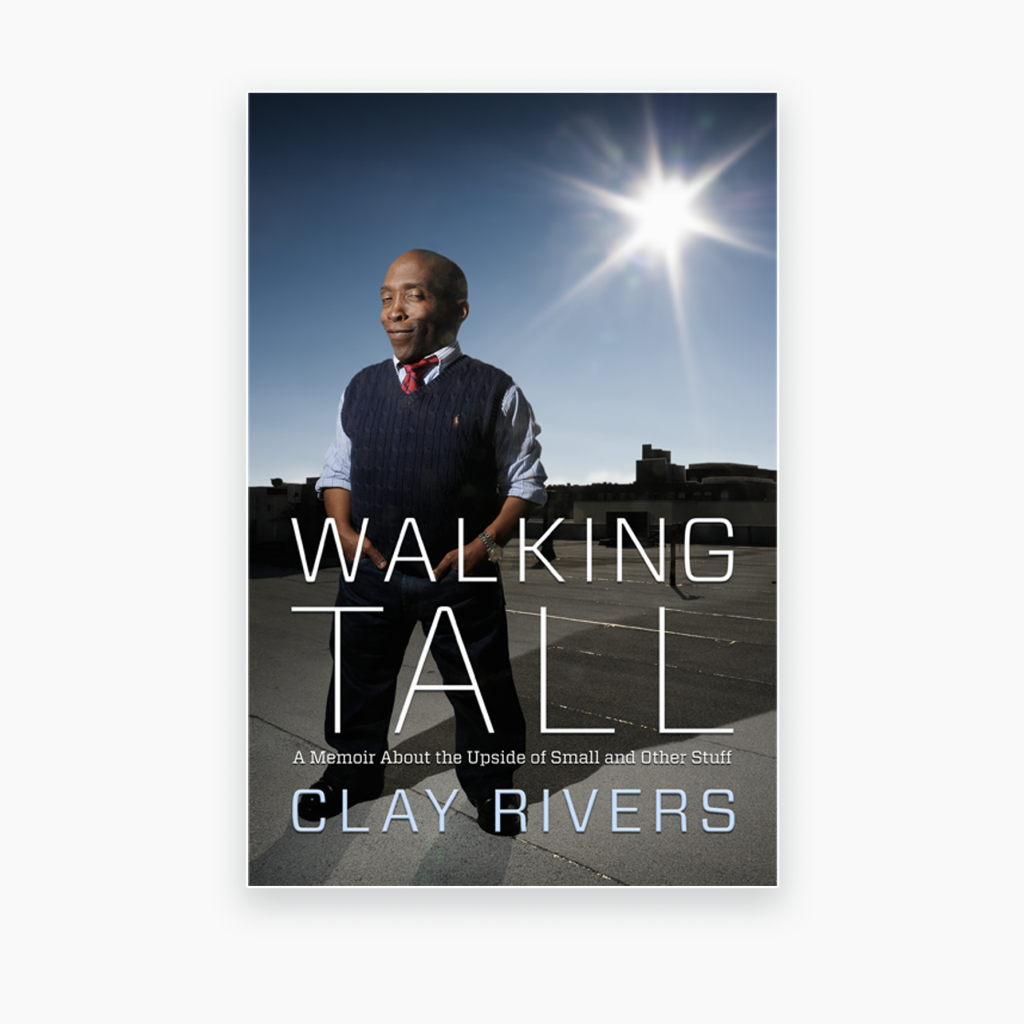 ---
Book Review
By Kam Williams, NewsBlaze.com
Writing my memoir wasn't my idea. I avoided the challenge for years. I'm a private person who's most comfortable with one-on-one interactions . . .

My close friends have told me with earnest fervor that my life experiences would make for interesting reading, given my unique perspective on the world. Short. Black. Christian. And gay.

How do I define self-worth in a world that correlates value with stature, physical perfection, and race? The answer: by walking tall."

— Excerpted from the Introduction (pgs. x-xi)
Actor/artist/author Clay Rivers has certainly held a variety of jobs over the course of his career: graphic designer, teddy bear in the Radio City Music Hall Christmas Spectacular, Donald Duck at Disney World, and bit roles on such TV series as Charmed and in movies like She's All That.
But finding work hasn't been the easiest thing, given that the guy's a gay black dwarf. So, besides sharing the average actor's anxiety about landing his next gig, Clay has had to deal with the triple whammy of discrimination based on his height, color and sexual preference.
And because he's a Christian, too, he's struggled to square his faith with his homosexuality. He even tried dating women after hearing a former drag queen address his congregation about how he had hung up his dresses and become straight with the help of the Lord.
Clay came to accept himself by the age of 38, which is when he came out to his mother. "Well, I still love you. You're still my son," she responded, despite being "well aware of the Biblical scriptures regarding homosexuality."
A man of admirable integrity, Clay talks about his willingness to walk out of a Hollywood audition where he was being asked to play a demeaning character showing short people in a bad light. What makes this autobiography intriguing is the fact that the complex author is able to both emote and entertain while giving the reader a decent idea of what it might be like to walk a mile in his complicated moccasins.
A meaningful memoir by an introspective soul who has arrived at a peaceful place where he's perfectly comfortable in his own skin.
To order a copy of Walking Tall, visit: AMAZON
Walking Tall: A Memoir About the Upside of Small and Other Stuff
By Clay Rivers
Constant Rose Publishing
Digital, $7.99
270 pages
ISBN: 978–0–9791741–2–4
---
Originally published at newsblaze.com on June 13, 2012.