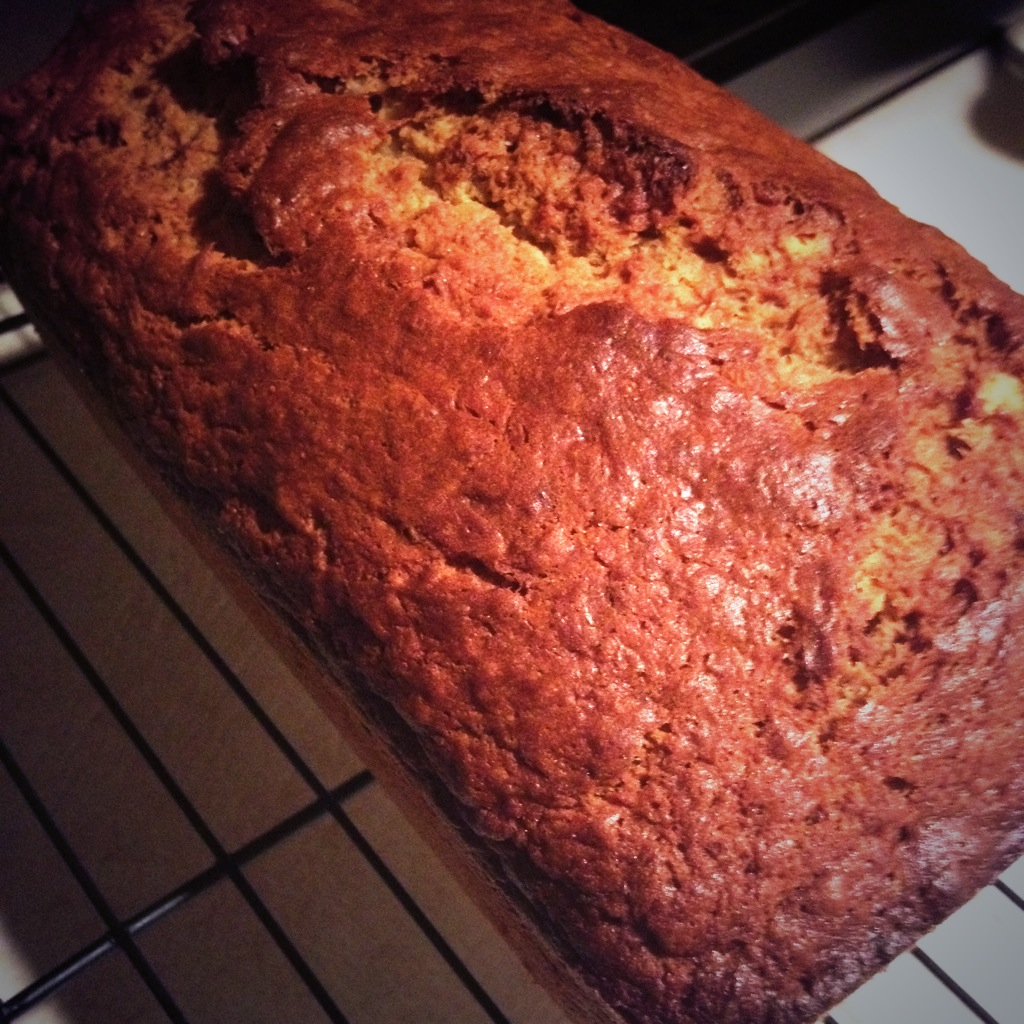 A few weeks ago I uploaded the above picture of a banana bread loaf I made on Facebook. Who knew so many of you liked banana bread? Since I can't get a loaf of banana bread to each and every one of you, what I can do is share this recipe with you! (I wish I could take credit for the recipe, but it's celebrity chef Tyler Florence's recipe.)
Ingredients
2 cups all-purpose flour
1-1/2 teaspoons baking soda
1/2 teaspoon salt
4 overripe bananas
1 cup sugar
3/4 cup (1-1/2 sticks) unsalted butter, melted and cooled
2 large eggs
1 teaspoon pure vanilla extract
1/2 cup pecans, finely chopped
Confectioners' sugar, for dusting
Directions
Preheat over to 350 degrees F and lightly grease a 9″ x 5″ loaf pan.
In a large bowl, combine the flour, baking soda, and salt; set aside.
Mash 2 of the bananas with a fork in a small bowl so they still have a bit of texture. With an electric mixer fitted with a wire whisk, whip the remaining bananas and sugar together for a good 3 minutes; you want a light and fluffy banana cream. Add the melted butter, eggs, and vanilla; beat well and scrape down the sides of the bowl. Mix in the dry ingredients just until incorporated; no need to overly blend. Fold in the nuts and the mashed bananas with a rubber spatula. Pour the batter into the prepared loaf pan. Give the pan a good rap on the counter to get any air bubbles out.
Bake for about 1 hour and 15 minutes, until golden brown and a toothpick inserted into the center of the loaf comes out clean. Don't get nervous if the banana bread develops a crack down the center of the loaf; that's no mistake, it's typical. Rotate the pan periodically to ensure even browning.
Cool the bread in the pan for 10 minutes or so, and then turn out onto a wire rack to cool completely before slicing. Toast the slices of banana bread, dust with confectioner's sugar, and serve.
Enjoy and merry Christmas!
And if you're really bad with recipes, here's a link to a video with Tyler making this very banana bread!