I will always remember my friend with red hair — not because of his red hair, or because he could be the most infuriating person I ever knew at times, or even because he was the first activist I ever knew; but because he is the reason I'm a whole person.
---
Harry P. Leu Gardens, 2019.
The two groups cleared a path down the center of the ballroom for the guest of honor and his court to make their grand entrance. Members of the Orlando Gay Chorus occupied half the room donning rainbows, kilts, and a requisite drag queen or two. And across the vacant center aisle, equally as festive, present and former pixie-dusted Disney entertainment employees mingled in wait. The line of demarcation was much less Jets versus Sharks in nature and more a function of an eclectic mix of people cut from a wide swath of humanity preparing for the unexpected.
The occasion: a quinceañera to laud our friend Joel, born February 29, 1960, thus giving him the designation of a leap year baby and marking his next birthday his sixtieth or fifteenth, depending on how you do the math. Add to the mix that Joel is under hospice care, the need to move up the party and make it a celebration of life and quinceañera mash-up becomes apparent. With his mother and brothers Ted, Franz, and Jaiden already in town, a team of at least thirty close friends put together a party unlike one that's ever been seen before or ever will again.
Joel Strack's been a fixture in the Orlando LGBTQ community since before there was an organized LGBTQ community. He's been an advocate for gay rights in Orlando whenever and wherever the opportunity presents itself — and sometimes when it doesn't — long before advocacy was a thing. He pushed for the inclusion of gay men and women by simply being visible and vocal. I write "gay men and women" not to be exclusive, but as a nod to his championing which began in the early 1980s, long before the use of the LGBT initialism or the addition of "Q," "I," or "A."
At the appointed time, a herald announced the official beginning of the festivities. Fourteen couples, all draped in white handcrafted satin sashes labeled "Joel's Court" processed in and lined themselves along the aisle like sentries, but did it with a lot more panache, of course.
He's been a fixture in the Orlando LGBTQ community since before there was an organized LGBTQ community.
After a brief introduction Joel recorded for a 2016 NPR broadcast, the guests erupted in cheers as the doors reopened and revealed Joel in a glittering gold kaftan trimmed in black marabou feathers and gold sparkly stuff for added depth of texture, and a dazzling necklace that looked like it came straight from the Milky Way. To top off his shimmering ensemble, Joel wore what can only be described as a gold- and silver-beaded, flame-style, sun goddess headdress fit for only the grandest drag queens, and accentuated by his graying beard. On the way to his awaiting "throne," Joel humbly issued regal and well-metered waves to his adoring well-wishers rivaling those of Cinderella or Queen Elizabeth. Your call.
Like kittens to catnip, everyone in attendance crowded around. And as tradition would have it, Joel's nimble mother knelt and swapped out her son's old shoes for a new pair of sparkly slippers . . . as you might guess, high heels would have been problematic.
Joel's brother Ted — wearing black leather pants, matching vest, studded leather harness, and a vintage 1970s black leather motorcycle BDSM cap, at Joel's request — took the mic and read a few heartfelt comments prepared by their father (who was in absentia due to health reasons) and told a few anecdotes about his brother's industriousness, love for the stage, and coming out that preceded his arrival in Orlando.
---
Walt Disney World Magic Kingdom, 1982.
The new Goofy-height guy bounded into the Zoo (the nerve center of all Character appearances for Walt Disney World) with a happy-go-lucky smile and a glint mischief in his eyes that signaled a zest for openness I wanted no part of. The rainbow bent into a half-circle emblazoned on his raglan tee declared a message to those in the know: he was gay. For those not in the know, it was only a matter of time until they knew about him. And me.
Tall, lithe, with a head covered in bright red hair, he clocked in and checked the scheduling board for his costume assignment, all the while greeting his new coworkers with the enthusiasm common to Irish Setter puppies. He moved through the room with an ease that both terrified and appealed to me.The tiny room offered me no means of leaving unseen. I wanted to disappear, but two things worked in tandem against me: my forty-eight-inch height which landed me the designation of a "duck" and the requisite orange-yellow tights I wore. My eyes avoided his gaze.
"Hi, I'm Joel," he said.
"Hi." I forced the words out of my mouth. "I'm Clay."
There would be no hiding for me with this guy. Ever.
Joel's mere presence threw the department's straight boys club a major curveball. I wouldn't go so far as to say he was militant or extremist in his gay activism, but his wit and his unapologetic approach to being gay obliterated the notion that he'd ever been in or would ever seek refuge in a closet, except maybe during a category five hurricane. Maybe.
While a lesser man might have folded under the barrage of thinly-veiled homophobic gibes, but regularly Joel gave better than he got without being insulting or demeaning.
Summer 1981, Joel camped it up as one of Cinderella's Ugly Stepsisters in the Main Street Electrical Parade and pushed bounds and people's buttons with ease. We performed two parades a night and during the break between performances we congregated in different camps; good ol' boys, gays, jocks, women, young Characters in love, and the misfits. Think: all the drama of a high school cafeteria, but with sweaty twenty-somethings earning cash and trying to develop a worldview amidst costumes and floats wrapped in half a million twinkling lights.
It was the best summer job ever!
That same summer, Joel threw a housewarming party at his new apartment. He served munchies and beverages galore and swagged his own twinkle lights everywhere. The thing that most impressed me about the soiree was the guest list: a stew of humanity from all over the Magic Kingdom — straights, gays, management employees, hourly employees, Jungle Cruise skippers, Characters, and his parents who were visiting from Illinois.
For me to gather people from various areas of my life under one roof, at the same time, was reckless proposition. What if someone divulged something previously unknown to someone from another group? If I lived a life in which I was consistently the same person in all areas of my life, like Joel, it wouldn't have been a problem. But that's not the life I lived. I went through life wearing different masks for different groups of people. The last thing I wanted was for someone to inadvertently unearth potentially damaging secrets without my expressed consent.
Camaraderie is a hallmark of who Joel is. He and I built a fast friendship and became roommates. We appreciated each other's sense of humor and sensibilities. He was the first to spot my subtle manipulation of people as a means to an end and took great joy in calling me out on it time and time again. I, in turn, called him out time and time again for being a provocateur merely for the sport of it without taking the consequences into account. But it was those early interactions that endeared him to me because we saw one another for exactly who we were and liked each other enough to challenge each other on our BS. That mutual authenticity laid the foundation for a friendship that has lasted close to four decades.
---
Harry P. Leu Gardens, 2019.
Joel's brother Ted told of Joel's storied accomplishments at Walt Disney World: making the transition from Character extraordinaire in live stage shows and parades in the Magic Kingdom and around the country to a variety of positions at Disney's Hollywood Studios, including Backstage Tour guide and stage manager, to national and international business seminars facilitator with The Disney Institute, and finally a recruiter with the Disney Vacation Club. Ted went on to tell us how Joel was instrumental in starting Gay Days at the Magic Kingdom which has since mushroomed into an annual event, and probably the accomplishment most dear to his heart, being one of the founding members of the Orlando Gay Chorus.
By the end of Ted's tribute, there wasn't a dry eye in the room.
It's rare to meet people who have such a profound and lasting effect on so many different people. Pastor Rick Warren writes a lot about having a purpose-driven life. His book opens with the sentence, "It's not about you." Joel has never made his life about himself. I look at his interactions with me and so many others, and his "purpose" is crystal clear. Now this is but one man's opinion and I could be a little off about this, but I doubt it. From the first moment I met Joel, he's been about ensuring that LGBTQ people are recognized and treated with respect and accepted as full-fledged member of our human family. Whenever and everywhere. And he treats people with respect and dignity, even those with whom he has a difference of opinion.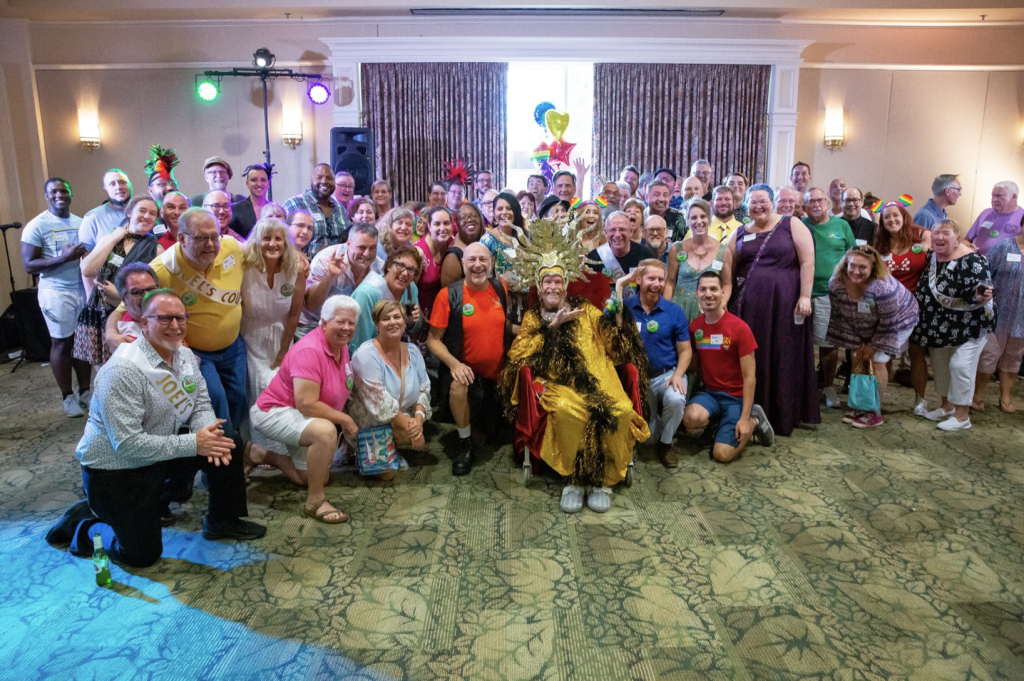 The variety of people present at his quinceañera — the once borderline homophobic guys from his early days in Characters who would just as soon throw an epithet at a gay man as he would look at one, those who were indifferent, those who were too afraid to embrace their own sexuality, those who needed to find their voice and stand up for their inherent humanity, and even the people who were allies before that was a thing — Joel touched them. Us.
No, he changed us for the better by helping our hearts grow a little bit bigger.
By the end of the night, after Joel's three costume changes, performances by the Orlando Gay Chorus, precision stagecraft, the confetti, hundreds of friends, selfies, a city proclamation, flowers, killer dance music, and unbridled love so thick you could spread it with a knife, it's safe to say that Joel's nuclear family gained a better idea of how much he's loved and admired by his Orlando family.
My fondest memories of him are from the early days, when he dealt with people as if he were the Mayor of the Magic Kingdom, gregarious and welcoming to everyone he met. It was so refreshing, so genuine. Granted he hasn't lost that, but it's almost like he had a vision back then for a much better world than the one we knew in 1981, and his purpose was to shepherd as many people in that direction as humanly possible. And if someone couldn't make the jump, he respected and loved them just the same.
I will always remember my friend with red hair — not because of his red hair, or because he could be the most infuriating person I ever knew at times, or even because he was the first activist I ever knew; but because he is the reason I'm a whole person. He taught me by example the value in embracing all parts of myself, even the parts that others might deem unworthy, and how to accept people for who they are without trying to change them.
I am a more integrated person because of Joel Strack.