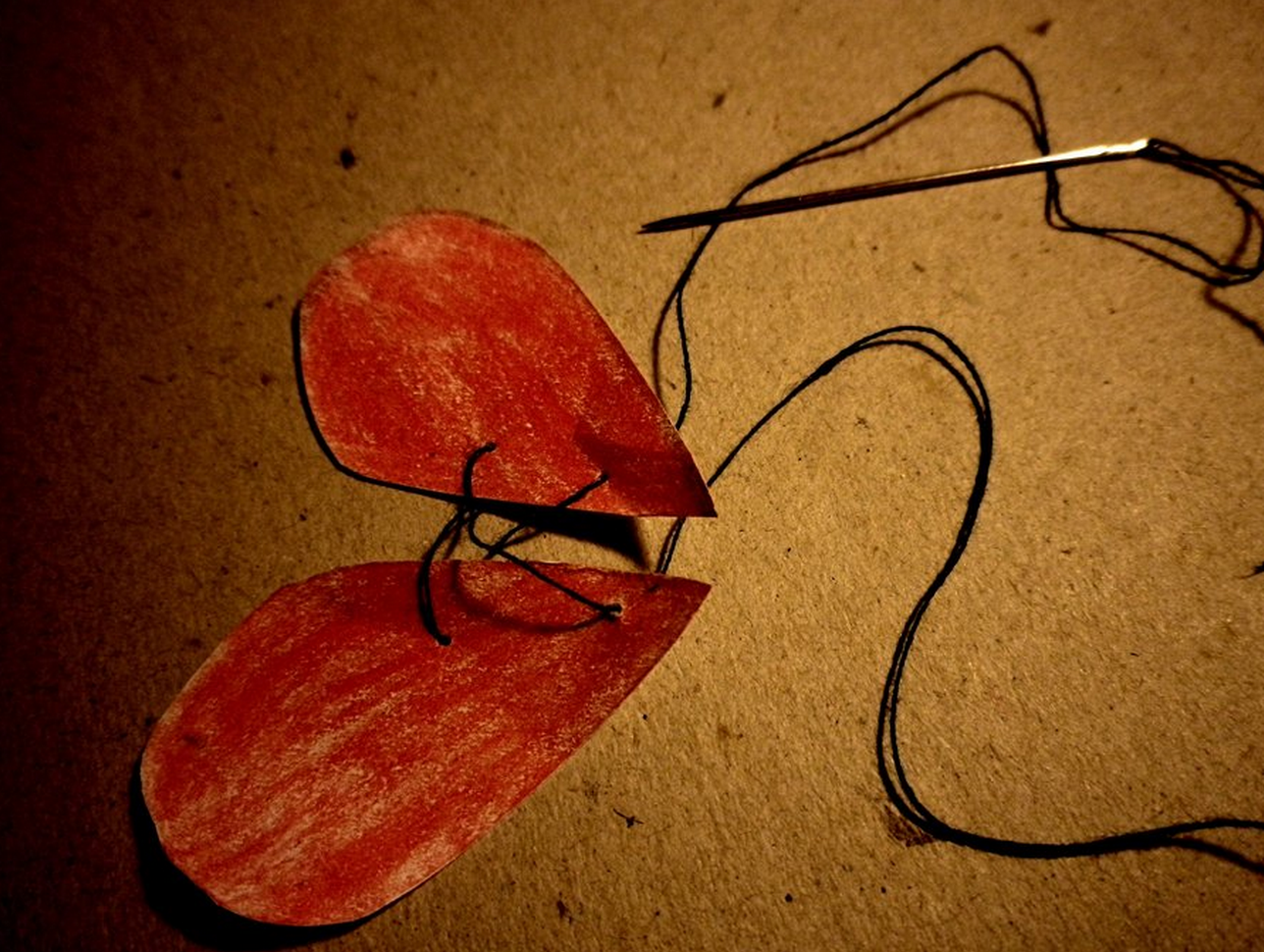 I have a friend named Gracie who revealed, in light of the annual recognition of all things love, her anguish over a failed relationship from six years ago. The last thing Gracie wanted or needed from me was cursory "get over it" or "you should be happy for him." I put on my tuffy pants and we had a chat about fear, pain, and a few other messy topics.
I told Gracie that for whatever reason, the feelings of bliss she and Sir Douche shared came to an end. And that kind of rejection hurts. Deeply. From where I stood, it looked like she had been holding on to rose-colored memories of the way she thought things were; feelings of resentment, angst, and agita; which resulted in her keeping their heart closed to potential opportunities because she was afraid of being rejected. Over the years, Gracie mixed in fears of never finding someone who would love her the way she thought her ex did. How could she grab on to something new while holding on to something old. 
Gracie warmed up to the idea that when faced with the option of living in a new (or potentially uncomfortable) emotional space, she might be reliving previous hurts not because it felt good, but because it was familiar. The majority of people would much rather stay in what's familiar—even if it's painful—than tread the deep waters of the unfamiliar regardless of how beneficial the end result might be.
This is where I thought my head was going to pop off. Gracie's wasted eight years of her life on someone who has moved on and hasn't looked back. Gracie lives in Chicago. There are dozens, if not hundreds of available men out there who would be more than happy to go out with her, if she gave them a chance. Those are pretty good odds, when you consider that all she needs is one man. But you know what? Gracie can't meet them because she's comfortable wallowing in the "that was the only man who'll ever love me" stew.
This was difficult conversation to have with Gracie, but sometimes a good friend is the only one who'll give it to you straight, with no chaser.
You see, Gracie has so much going for her. She's smart, funny, personable, has the biggest heart for people, and she doesn't bullshit people. When she gives her word, people know that Gracie will take care of it. This woman has character, and I don't mean that in any theatrical sense. She's got backbone, the intangible "it" scores of people pretend to have. And when she wants to, Gracie can look like a million bucks. 
Gracie doesn't get that the aforementioned qualities are gifts from God. Not every man is looking for a woman with character. And that's okay, because any man who's less than her equal doesn't deserve her. What's most frustrating is that she doesn't see all that she is and all that she's been given. She doesn't see what it is we who know and love her admire about her.
To Gracie, and anyone else out there looking to make a change in their life, it's not as hard as you're imagining it to be. You want to talk about hard choices? I know people—who have faced cancer, the loss of a loved one, have shed some serious weight, battled drug addiction and/or alcohol, and dealt with the loss of a child—I'll put you in touch with them. There's no magic pill or frontal lobotomy that gets you through it. Change is a process and it's done minute by minute, hour by hour, day by day. It's a choice. Yes, it's work to move from what's comfortable into the unknown, but think of it this way: you're not putting yourself "out there," you're putting yourself back into yourself.
Little by little, anyone can do it. Sometimes we can treat ourselves worse than anyone else on the planet. And in those instances, we're the only ones who can change that. A little confidence goes a long way.
If you've got a word or two of encouragement for Gracie, please feel free to leave your thoughts as a comment on this post. I'm sure she'd relish reading them. Thanks.